Public Interest Incorporated Foundation
Japan-United States Educational Exchange Promotion Foundation (Fulbright Foundation)
Fulbright Foundation was established in order to institutionalize the alumni fundraising activities. As a result of having been officially recognized as a Public Interest Incorporated Foundation, there are tax benefits to the contributors. For details, please check the following website.
Fulbright Alumni Association of Japan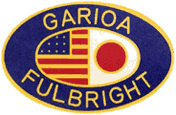 With 13 associations throughout Japan, and one in the U.S., the associations' activities promote mutual understanding between Japan and the U.S. and maintain ties among those who shared similar experiences under the Fulbright grant. The principal activity of the associations since 1982 has been a campaign to raise funds to invite more Americans to Japan. The Alumni also provide assistance to the American grantees during their stay in Japan.
For further information, please contact:
Fulbright Alumni Association of Japan
TEL: +81-3-3503-1841 FAX: +81-3-3503-0758
Kanmuri (Hyphenated) Grant Contributors
Kanmuri (Hyphenated) Grants began in 1981, and Fulbright Japan is grateful to many companies, organizations, and individuals who provided support directly to Japan-U.S. Educational Commission or via Japan-U.S. Educational Exchange Promotion Foundation for at least one American or Japanese grantee.
For fiscal year 2016, the following companies, organizations, and individuals provided support for Fulbright Japan:
Mitsubishi (1), Robert G. Baker Fund (1), Sam Jameson Fund (1), Yoshida Scholarship Foundation (YKK) (2)
Above list is in alphabetical order; parenthesis indicates the number of grants funded by the contributor
Other Contributions
For fiscal year 2016, Delta Air Lines, Inc. (40 tickets for Japanese grantees) and All Nippon Airways Co., Ltd. (30 tickets) has contributed airline tickets. In addition to the above, the Daiichi Hotel Tokyo has provided discount rates since 1980 for the American grantees.
Japan-U.S. Fulbright Charity Golf Tournament:
In 2016, the 40th golf tournament was the final year of this event. Thank you very much for your longtime support for this event.
An annual Charity Golf Tournament is hosted in Japan by alumni volunteers and sponsors since 1982. Through corporate and individual participation, the tournament raises enough funds in a day to provide close to one to two grants for Americans each year. From 2014, the Japan-U.S. Educational Exchange Promotion Foundation organizes this fundraising activity.
Past Contributors:
The following companies, organizations, and individuals have contributed to the Fulbright Program in Japan (in alphabetical order):
A
the A50 Project of Japan (A50 Project Commemorating the 50th Anniversary of the Signing of the San Francisco Peace Treaty)
Ajinomoto Co., Ltd.
All Nippon Airways Co., Ltd.
American Chamber of Commerce in Japan
B
C
Canon Group
Canon Inc.
Cargill Japan Ltd.
CarVal Investors Pte. Ltd.
Chubu Alumni Association
Chugoku Alumni Association
D
Daiichi Hotel
Dainippon Ink & Chemicals, Inc.
Delta Airlines
DENSO Corp.
Dentsu Inc.
Du Pont Japan Ltd.
F
Fuji Bank Ltd.
Futaba Corp.
G
H
I
IBM Japan Ltd.
Industrial Bank of Japan
J
J. P. Morgan
J. William Fulbright Centennial Fundraising Campaign [F100]
Sam Jameson Fund
Japan Airlines
Japan Economic Foundation
Japan Federation of Certified Public Tax Accountants' Associations
Johnson Co., Ltd.
JT Fund
K
Kamimura Kazuko
Komatsu Co. Ltd.
Kyushu Alumni Association
M
Matsumoto Oil & Fat Pharmaceutical Co.
Mazda Motor Corp.
Merck & Co.
Mikami Fund
Mitsubishi Group
Mitsui Group
Mitsuiwa Group
Mobil Sekiyu K. K.
Morgan Guaranty Trust Co.
Morgan Stanley Japan Ltd.
N
Nagamura Fund
Nakagawa Fund
Nissan Motor Co., Ltd.
O
Ogata Sadako
Okinawa Alumni Association
Osaka Alumni Association
S
Shino Fund
Sony Corp.
Sumitomo Group
T
Takahashi Foundation
Tateuchi Foundation
Tohoku Alumni Association
Toyota Motor Corp.
U
Y
Yoshida Scholarship Foundation (YKK)