Japan-United States Educational Commission (Fulbright Japan)
With the conviction that people exchanges are the most effective means to promote world peace, the late Senator J. William Fulbright presented a bill before the U.S. Congress to create an educational exchange program and in 1946 the Fulbright Program was established. The Governments of Japan and the United States signed an agreement to establish an educational exchange program between the two countries in 1951 and with funding from the U.S. Government the United States Educational Commission Japan was established in 1952. However, in 1979 the Japanese Government decided to share the costs to administer this program and on December 24 the Japan-United States Educational Commission was established in order to promote mutual understanding between Japan and the United States through the Fulbright Program.
Basic Facts about JUSEC
Name
Japan-United States Educational Commission (Fulbright Japan)
Secretariat Location
Sanno Grand Building 207, 2-14-2 Nagata-cho,
Chiyoda-ku, Tokyo 100-0014, Japan

Telephone Number
+81-3-3580-3231
Fax Number
+81-3-3580-1217
Establishment
December 24, 1979
Mission
The promotion of mutual understanding between Japan and the U.S. through the administration of educational exchange programs.
Activities
Fulbright Grant Program
EducationUSA
Fulbright Alumni Activities
Special Exchange Projects
Board Members
10 members (5 Americans and 5 Japanese: 2 government representatives and 3 private sector members from each country)
Funding Sources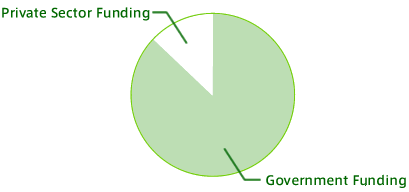 1949-1979  U.S. Government only
1980 Cost-sharing with Japanese Government begins
1981 Private Sector Contributions added
About Senator J. William Fulbright
(1905-1995)
J. William Fulbright was born on April 9, 1905 in Sumner, Missouri. He was educated at the University of Arkansas where he was awarded the B.A. degree in Political Science in 1925. He then attended Oxford University as a Rhodes Scholar where he received an M.A. degree.
When Fulbright returned to the United States, he studied law at George Washington University in Washington, DC. During the 1930's, he served in the Justice Department and was an instructor at the George Washington University Law School. In 1936 he returned to Arkansas where he was a lecturer in law and, from 1939 to 1941, president of the University of Arkansas, at the time the youngest university president in the country.
He entered politics in 1942 and was elected to the U.S. House of Representatives, entering Congress in January 1943 and becoming a member of the Foreign Affairs Committee. In September of that year the House adopted the Fulbright Resolution supporting an international peace-keeping machinery encouraging U.S. participation in what became the United Nations, and this brought national attention to Fulbright.
In November 1944 he was elected to the U.S. Senate and served there from 1945 through 1974 becoming one of the most influential and best-known members of the Senate. His legislation establishing the Fulbright Program sailed through the Senate without debate in 1946. Its first participants went overseas in 1948, funded by war reparations and foreign loan repayments to the U.S. This program has had extraordinary impact around the world. There have been more than 360,000 Fulbright grantees and many of them have made significant contributions within their countries as well as to the overall goal of advancing mutual understanding.
In 1949 Fulbright became a member of the Senate Foreign Relations Committee. From 1959-1974 he served as chairman, the longest serving chairman of that committee in history. His Senate career was marked by some notable cases of dissent. In 1954 he was the only Senator to vote against an appropriation for the Permanent Subcommittee on Investigations, which was chaired by Senator Joseph R. McCarthy. He also lodged serious objections to President Kennedy in advance of the Bay of Pigs invasion in 1961.
He was particularly in the spotlight as a powerful voice in the chaotic times of the war in Vietnam, when he chaired the Senate hearings on U.S. policy and the conduct of the war. In 1963 Walter Lippman wrote of Fulbright: "The role he plays in Washington is an indispensable role. There is no one else who is so powerful and also so wise, and if there were any question of removing him from public life, it would be a national calamity."
After leaving the Senate, he was of counsel to the Washington law firm of Hogan & Hartson and remained active in support of the international exchange program that bears his name.
He received numerous awards from governments, universities, and educational organizations around the world for his efforts on behalf of education and international understanding. In 1993 he was presented the Presidential Medal of Freedom by President Clinton.
Senator J. William Fulbright died on February 9, 1995 at the age of 89 at his home in Washington, DC.
1940-
1946
Fulbright Program established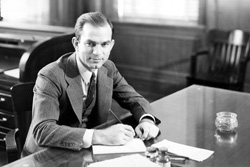 1946 JWFulbrightHD
1949
Government And Relief In Occupied Areas (GARIOA) Program begins in Japan
1951
The Governments of Japan and the U.S. sign an agreement to establish an educational exchange program between the two countries with funding from the U.S. Government
1952
GARIOA Program last group/Fulbrighters First Group

1952 Kansas Orientation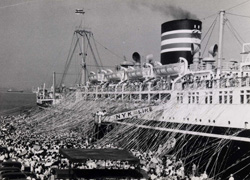 1952 Hikawamaru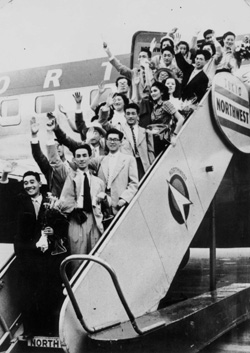 1952
1970-
1976
25th Anniversary of the Fulbright Program in Japan
1979
New Japan-U.S. Agreement on Educational and Cultural Exchange signed; Government of Japan agrees to share costs for the Fulbright Program
1979
Japan-U.S. Educational Commission established
1982
30th Anniversary of the Japan-U.S. Fulbright Program. The GARIOA/Fulbright alumni associations founded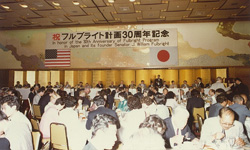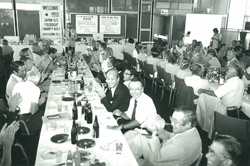 First Japan-U.S. Fulbright Charity Golf Tournament
1986
Japan-United States Educational Exchange Promotion Foundation (Fulbright Foundation) established to institutionalize alumni fundraising
1992
40th Anniversary of the Japan-U.S. Fulbright Program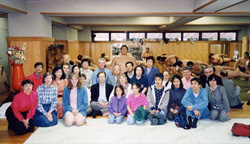 U.S. grantees visiting sumo stable
2000-
2002
50th Anniversary of the Japan-U.S. Fulbright Program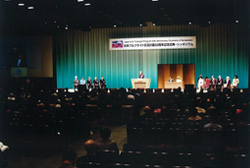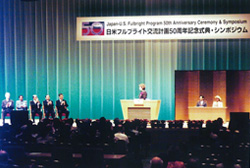 2005
J. William Fulbright Centennial Celebrations
2012
60th Anniversary of the Japan-U.S. Fulbright Program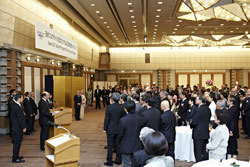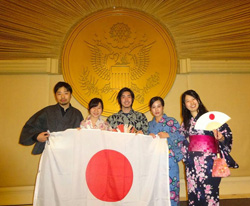 2014 FLTA Conference group photo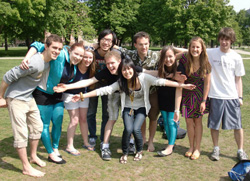 2014 FLTA